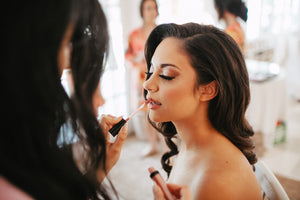 DESCRIPTION
We use the highest quality airbrush makeup that is going to last you all night of celebrating! However, for those who want a beauty insurance plan, we have put together a Touch-Up Kit to help you perfect your look all evening long. Let's unpack our favorite touch-up products and why we recommend them : 
- Pressed Powder | Our pressed powder is designed to mattify and smooth out any oily patches of the skin! While your look will stay intact throughout your soiree, more oily skin types made need a refresh around mid-reception with a pat of powder on the ball of the nose. 
- Translucent Powder | Our translucent powder is perfect for those who are highly oily in the T-zone. 
- Lipstick, Liners, & Glosses | Touching up your lips is inevitable from eating, drinking, and kissing your new love! Purchasing your lip color will have you feeling confident that your lips will stay perfect and is the perfect keepsake from your perfect day. Talk about your new favorite lip color! 
- Eyeliner | We recommend keeping our eyeliner in your touch-up kit to perfect your water-line after a few hours! Due to the natural wetness of the eye, and especially in teary situations, you'll want to deepen this color. 
- Eyelash Glue | A strong eyelash glue should always be kept on hand to avoid any lash breaking free!
- Bag | The cherry on top of your wedding day look and touch-up kit is a beautiful bag to hold it all together.